Shift At Will NEWS
Shift At Will Software Version 1.2 is now released.
It's available for download in the "Products" section of our home page.
See the release notes for the description of new features added.
---
Shift At Will Version 2 was released in Jun 2005 and has been delivering the power and joy of full control over the automatic transmission since.
It's reliability is appreciated by the customers all around the world.
Our customers agree that the use of Shift At Will is addictive. Once you install it, you never want to be without it!
Imagine shifting gears in F1-style, with paddles on the steering wheel. Yes, it has become possible now!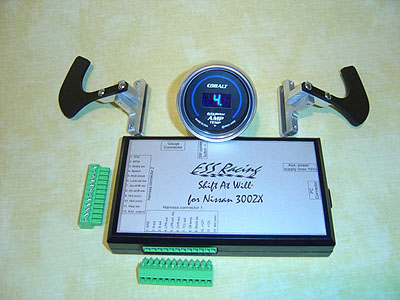 The key features of the SAW system are:
- completely replaces the original AT control unit
- gives full manual control over gear shifting
- custom paddle shifters made to fit the Nissan 300ZX
- automatic shift mode
- 2 shift-maps fully customizable by the user
- all parameters accessible for tuning via a serial computer interface
- monitoring of the transmission oil temperature
- full control over the line pressure and lock-up operation
- digital blue LED 2 1/16" round gauge display
- future software upgrades downloadable by the user

This is how the paddle shifters look like when mounted: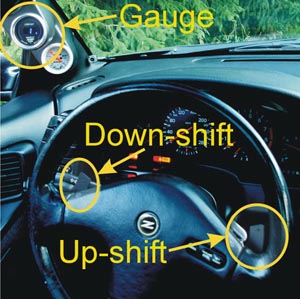 Refer to the Instruction Manual for more detailed information about the system functions.
The Shift At Will documentation can be found on the Products page.


Don't hesitate to email us with any questions at: